The Piers Project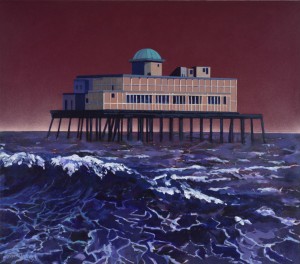 Over the past eighteen months I have been travelling around the country visiting piers, taking photographs of them, making sketches and talking to the people looking after them. ( As well as looking after TC).
Several of the paintings are in galleries, six in Clarendon Fine Art in Mayfair, London and others in galleries across the UK, from Harrogate in the north to Rye in Sussex. One was exhibited in the Federation of British Artists Annual exhibition in The Mall this year.
I have also started collecting postcards of piers both old and new.
I'm looking for venues with associations to the coast where I can show some of the group, perhaps the piers nearest to the venue, but that does not have to be the case. So, if anyone has the right connections for such a project, it would be good to hear from you.
Below is the link to the piers section of my painting site and below that a link to an interview that I did with ITV in the south.