Product Description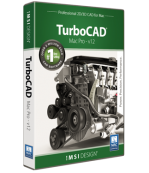 TurboCAD for Mac Upgrade - All orders will recieve v14
£60.00
Upgrade to TurboCAD Deluxe 2021 or 2022
£68.00
Upgrade to the latest version of TurboCAD Platinum 2021 or 2022
Upgrade your version of TurboCAD to TurboCAD Platinum 2021, or 2022
Important Information
2021 or 2022
If your Pro/Platinum version is pre 2021, you have the option of upgrading to either 2021, or 2022. The difference between the versions is in the materials palette. 2021 uses LightWorks which has been in most of the previous versions. (Apart from a couple of years of RedSDK). It is quick and easy to understand and as far as I understand, works on all reasonably modern computers.
In 2022 LightWorks has been replaced with TurboLux. TurboLux needs setting up, it does not work 'out of the box'. It has many settings, not all in the same place. It defaults to a grey background, which I've found impossible to change. (On the Forum, someone says to create a false wall behind your design and colour it white).
2022 will not read old LightWorks materials, so you would need to re-assign all your materials. I am told that the publisher's are working on a converter for, but I do not have a date for this.
If the materials palette is an aspect of TC that you use, the system requirements are essential to read and understand.
System Requirements
TurboLux has specific requirements for taking advantage of your computer's GPU (Graphics Processing Unit). When running TurboLux, the OpenCL (GPU-based) modes require an NVIDIA graphics card or GPU that supports either OpenCL 1.2 or later, or NVIDIA's CUDA version 10.0 or later. It is recommended that you install the latest driver updates before using TurboLux rendering.
If the above makes no sense to you, you need to get someone to check out your computer before you buy or upgrade to 2022.
You can download a trial from www.turbocad.com, but if you do that and you wish to buy, you will need to buy from that site, I can not supply you, unless you can completely remove every trace of the trial from your computer, which is not easy, unless you have software to do it.
If you have any questions, you are welcome to call my mobile any time.
For full product details, please click here.
TurboCAD software purchased on this site is delivered as a link to a download.
Buy Now:
Email to a friend
---
More Information
For more information please call me on 07724 882403, or email [email protected].
07724 882403
Need some CAD advice? Want to place an order over the phone? Call me now and I'll do my best to help.
FREE Support with Every Product Purchase

Buy from this site and I'll provide unlimited telephone and email support!
Educational Licenses
If you're a student or a tutor, I can provide educational licenses at a much reduced price. Please contact me for details.
Need a website?

PaulTheCAD (and my other sites) was built and is maintained by Tim at Clever Digital Stuff. I've been working with Tim for over 10 years, he really knows his stuff. If you need a site or just some advice about anything digital, take a look at cleverdigitalstuff.com and give Tim a call - Tell him I sent you and you'll get a discount.
Upcoming Events
There are no upcoming events.