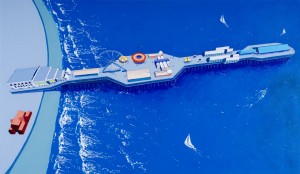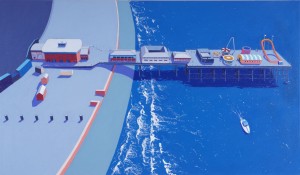 Blackpool South Pier, left and Blackpool Central Piers were both drawn using TurboCAD Platinum. Drawn directly in 3D then put into perspective, (View – Camera – Properties – Perspective). Next spun around to get the desired angle, projected onto a canvas and drawn around. Painted with acrylic.
Synopsis of the Book
Every pier, from the grandest to the most modest, has its own story.
Many piers were originally built as wharfs for ships to load and unload goods. Then, as the railways expanded and people were able to travel further afield for trips and holidays, they became destinations in their own right: places to promenade, to meet and to be entertained. Innovative Victorian engineering created piers that could better withstand the vigours of the sea yet still provided elegant spaces to be enjoyed. This historical development was mirrored around the world.
Researched and executed over five years, 100 Piers includes historic postcards, concert programmes and newspaper articles about the piers. Many piers are no longer in their prime, some have gone completely, lost to the tides of time.
The whole collection can be found on-line at 100 Piers
Paul