Product Description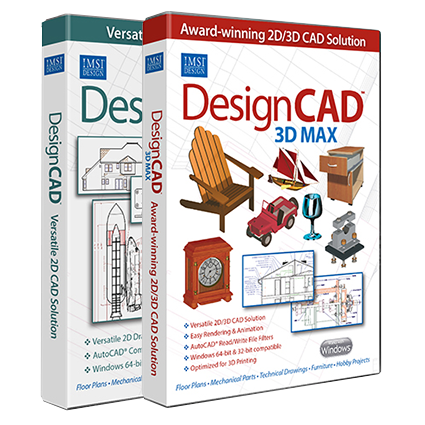 TurboCAD Professional 2019
£749.00
TurboCAD Platinum 2019
Premium 2D/3D CAD Software
TurboCAD Platinum is a top-of-the-line professional 2D/3D CAD application. Access a powerful drafting palette, ACIS® solid modeling, premium photorealistic rendering, advanced architectural and mechanical tool sets, AutoCAD®-like 2D drafting interface options, and extensive file support.
IMPORTANT: USB Software Backup
TurboCAD software purchased on this site is delivered as a link to a download. If you would like a copy of the installer on a USB drive, please look for the link to the 'Software Backup on USB' at the bottom of the Basket page and add to the basket from the linked page.
Buy Now:
Email to a friend
Product Description
TurboCAD Platinum 2019 is a brilliant collection of professional 2D/3D CAD tools to design, modify, present, and document in an integrated fashion. An optional AutoCAD® 2019-like 2D drafting interface with command line and dynamic input cursor helps professionals already familiar with AutoCAD easily get up to speed. Advanced technology – a powerful drafting palette, D-Cube constraints, and ACIS® engine —enhance productivity. Advanced architectural and mechanical design tools add even greater flexibility and control, while superior rendering controls produce powerful presentations. Plus, TurboCAD Platinum 2019 is programmable and supports over 40 file formats including .DWG, .DXF, .SKP, 3D .PDF, 3MF, FBX and .STL for 3D printing.
Key Features & Benefits
Easy to Learn and Use with set up wizards, context-sensitive help, snaps, alignment aids, and handle-based editing.
AutoCAD® 2019-like 2D drafting interface option with command line and dynamic input cursor.
Complete 2D/3D Design Tools for drafting, modeling, modifying, dimensioning and annotation.
Surface Modeling Tools like 2D/3D Booleans, extrude, revolve, sweeps, & more.
ACIS® 3D Solid Modeling and Advanced Mechanical Design tools to create complex 3D objects.
Professional Part Tree that can act like a selective Undo/Redo for all your 2D/3D operations.
Powerful Drafting Palette that creates associative sections and cut planes.
Advanced Architectural Tools including a greater range of parametric architectural objects, style manager, and IFC support.
Superior Photorealistic Rendering, materials, and lighting to create powerful presentations.
Dozens of Productivity Tools such as PDF underlay and ePack with New Intelligent File Send.
2D Geometric and Dimension Constraints.
Database Connectivity with Customisable Reporting.
Point Cloud Support.
Programmable with Ruby Scripting or Software Development Kit to create routines, features, & more.
Over 40 industry standard CAD & graphic file formats supported to share your work.
New Import of TurboApp files from mobile devices.
Over 50 new and improved features!
Platinum Version Features
Design Director
Organise, access, and explore design alternatives.  The Design Director Palette provides advanced controls for Layers, Layer Filters, creating Layer Sets, setting and saving Work Planes, controlling Named Views, and more to streamline work and enhance productivity.
2D Design and Editing
TurboCAD® is rich in professional 2D/3D design tools and drawing aids that speed design. Create views and viewports of any size and shape. Access extensive paper space and printing options. Multi-select drawing tool, dimension tools, and more.
3D Surface Modeling
TurboCAD® includes a complete set of 3D surface modeling and editing tools making it ideal for both single part and small assembly mechanical designs.
ACIS® Solid Modeling / Advanced Mechanical Design
TurboCAD Platinum provides advanced 3D surface and ACIS® solid modeling tools. The thread tool, twisted extrude, extrude to face, imprint tool, parametric holes, imprint and more enable the easy creation of your more complicated professional designs. Access advanced modification tools like bend, unbend, and facet offset make it easier to modify existing geometry. Smooth surface mesh / sub-D modeling tools are also available allowing for the creation of more organic shapes.
Architectural & GIS
TurboCAD® includes an integrated suite of architectural tools that accelerate productivity in design and drafting, or in the documentation of existing compatible architectural models. The architectural objects are AutoCAD® Architecture (ACA) compatible so that .DWG models with ACA extensions may be read, modified, and documented as needed.
Photorealistic Rendering & Visualisation
TurboCAD Platinum includes the LightWorks rendering engine to create stunning presentations. Render management of materials, luminance, environments, advanced render styles and more, allow users create truly photorealistic presentations of their design.
Parametric Parts Manager
Create parts that remain parametrically controlled, even after insertion into your drawing. Also draw variably constrained parts and convert them to parametric parts. Parts can be saved individually, and libraries of .PPM objects can be created, shared, and reused from project to project.
Interoperability / File Support
TurboCAD® makes it easy to maintain your intellectual property investment and share your work. TurboCAD Platinum supports export of 3D models to 3D .PDF which can be viewed interactively with Acrobat Reader. Plus, users can open, insert, or embed up to 35 file formats and export up to 28, including .DWG, .DXF (from R14 through 2019 including AutoCAD® Architecture extensions), .SKP (SketchUp™, to version 2018), .3DM (Rhinoceros®), .3DS (Autodesk® 3ds Max®), IGES, STEP, .OBJ, COLLADA (.DAE – export); 3MF and FBX and many more.
External References (Xrefs)
All of the file formats that may be opened and imported, except bitmap images, may be used as an external reference (Xref). TurboCAD® offers Xref clipping for dozens of file formats and binding of Xrefs, which can then be exploded and edited. Xref layers are also easy to manage, including with layer filters.
Programmable (SDK & Ruby Scripting)
Extend the functionality of TurboCAD Platinum by developing new tools, functions, and behaviours. Custom routines that are performed on a regular basis can be automated. Specific tools for vertical applications can be created and added. Even commercial plug-in applications may be developed and sold. Updated documentation and samples are provided and there is a wiki and forum-based support online.
Audit System
A new 'Audit' item has been added to the Filters menu of the Selection Info Palette . This Audit System enables you to highlight 'bad' objects in Selection Info palette, turn on/off audit conditions and change their parameters, generate audit report for one or more objects, filter 'bad' objects in Selection Info palette, send notifications (about a 'bad' object) to Event Viewer palette.
Extents Size Property
The Extents Size parameter has been added to the Selection Info Palette properties. Extents Size parameter works with groups, blocks and insertions. You can now use the 'Extents size' property to select entity according to size valuation. Select objects that you think are big or small, or an object in any range you want. The Extents Size update provides you with additional flexibility so that you can use this parameter for various needs and for analyzing possibly corrupted 'wrong' entities.
Image Manager Improvement
You can now select Multiple files from Open Dialog box when importing pictures in the Image Manager palette.
New Zoom Diagnostic Message
A new message has been added. It appears when the user tries to zoom in or zoom out beyond the maximum zoom factor or limit.
OK and Cancel Buttons
Improved usability by the addition of OK and Cancel buttons in the dialog box of the Insert Fraction in the Text Editor palette.
Select by Entity Type Update
Now Circle/Ellipse item of previous TC versions is separated into two cases: Circle and Ellipse. The same is for Circular and Elliptical arcs. Previous versions could not select Circles or Arcs separately.
What's new in this version
USABILITY AND INTERFACE
Customizable Ribbon Interface:
Users now have the ability to fully customize the Ribbon Interface. You can now Add and Rename Tools, Groups and Tabs. In addition, Tabs may be hidden or renamed, and manually created XML Config files can be directly imported into TurboCAD. UI Themes are also full supported in the Ribbon.
4K Monitor Support:
With new, scaleable vector icons, TurboCAD is now fully optimized for 4K monitors. Through dynamic sliders, toolbar icons, the User Interface and other icons in other part of the UI can be resized to optimize readability on higher resolution displays.
Named View Enhancements:
New functionality has been added where users now have the option of associating Layer Sets with Named Views, giving users a much better way to manage Layers Sets.
2D DRAFTING AND EDITING
Select by Similar:
This powerful tool allows users to select any 2D or 3D object type or a Block and then find all occurrences of that in the drawing. Very detailed selections can be made that include parameters such as pen color and style, brush color and style, layer, even the selected object's coordinate system. A great tool to use in conjunction with making further global changes to that selected object.
Construct Similar Tool:
This tool which takes properties from a referenced object and applies these to the construction of the next object. This tool provides a fast and efficient method to assign object properties such as line fonts, dimension styles, and wall properties with a single click
Remove Overlapping Entities:
The 'Overkill' tool removes overlapping lines, arcs, text and dimensions, thereby allowing you to simplify drawings by removing duplicate, redundant Entities. Event viewer shows the count of objects that were changed.
Pick Point Hatch:
Pick-Point-Hatch now works with gaps in 2D objects. For example, trying to fill an area bounded by a Polyline, when there are gaps in the Polyline. Improvements to pick-point also apply to ADT objects (Walls, Doors and Windows), allowing to similarly fill in gaps between these objects.
3D DESIGN & MODELING
Blend Tool:
Three additional Blend types have been added to the Fillet Edges tool – G2 Continuous Curvature, Fixed Width and Three Face
Sheet Metal:
Multiple improvements have been made to the Sheet Metal tools, including: a new Property have been added to the Flange Sheet tool – Draft Angle; several new options have been added to the Inspector bar when using this tool – Start and End Offset, Start and End Angle; accuracy improvements to the Unbend tool and the ability track progress of this ACIS® operation and interrupt it if desired results are not seen.
Surface Extrude:
Users can now select flat 3D polylines or 3D curves for Surface Extrude tools such as Revolve. Also, 3D Curve and Curve (2D) are now separate tools..
ARCHITECTURAL
Architectural Desktop (ADT) Objects:
ADT objects can now be completely and accurately used with Copy and Linear Array copy tools. For example, the Array Fit Linear now takes into account all of the properties of the ADT object being copied, including Work Plane, Layer, Materials, etc. Previously, this tool could create only one roof object. Now, multiple objects may be created. In addition, the overall processing of all ADT objects in a drawing , including the House Wizard, has been significantly sped up.
BIM Tool:
Data collection of IFC files has been improved, the BIM Palette now shows the BIM file structure, and the BIM tool and BIM Palette's UI's have now been more tightly integrated, making these architectural modeling parts of TurboCAD easier to use.
PHOTO REALISTIC RENDERING AND VISUALISATION
New LightWorks® rendering engine and Sun and Sky Shader:
The LightWorks rendering engine has been upgraded to v9.3. New properties "sun dir by geo-location" and "dir by geo-location" added to "Sky" and "Sun" shaders correspondingly
RedSDK to LightWorks Porting:
RedSDK rendered images are now more automatically, accurately and completely converted to a LightWorks rendered image.
INTEROPERABILITY
AutoCAD 2019 Compatibility:
TurboCAD 2019 now fully supports AutoCAD DWG, DXF and DWF file formats.
STL Filter – 3D Print Check:
A 3D Print Check option has been added when exporting an STL file. This tool checks a part for common topological errors such as: non manifold edges, duplicated and collapsed facets, open edges, shells and more. The Print Check tool also displays geometry information such as extents, number of facets/vertices, area, and volume.
FBX Filter:
Export file format for 3D Animation Software such as 3DS, Maya. MotionBuilder and Mudbox.
System Requirements
TurboCAD Platinum is delivered in a 64-bit version to take full advantage of your hardware's available computer memory to load, process, and render CAD files. A 32-bit version is also available if required by your hardware.
CPU Type
1 gigahertz (GHz) or faster 32-bit (x86) or 64-bit (x64) processor
64-bit System Requirements:
Microsoft Windows 10, Windows 8* 64-bit, Windows 7 (64-bit) – 8 GB RAM.
32-bit System Requirements:
Microsoft Windows 10, Windows 8*, Windows 7 – 4GB RAM.
*TurboCAD® is designed for desktops or laptops that meet the indicated system requirements. Windows RT technology used on some tablets is not supported.
Recommended:
Your experience with TurboCAD Platinum will be greatly enhanced with a newer generation, higher speed CPU, 8+ GB RAM.
---
More Information
For more information please call me on 07724 882403, or email [email protected].
07724 882403
Need some CAD advice? Want to place an order over the phone? Call me now and I'll do my best to help.
FREE Support with Every Product Purchase

Buy from this site and I'll provide unlimited telephone and email support!
Educational Licenses
If you're a student or a tutor, I can provide educational licenses at a much reduced price. Please contact me for details.
Upcoming Events
There are no upcoming events.
Need a website?

PaulTheCAD (and my other sites) was built and is maintained by Tim at Clever Digital Stuff. I've been working with Tim for over 10 years, he really knows his stuff. If you need a site or just some advice about anything digital, take a look at cleverdigitalstuff.com and give Tim a call - Tell him I sent you and you'll get a discount.