Product Description
TurboCAD Professional Platinum
£500.00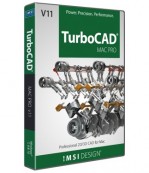 TurboCAD for Apple Mac
£55.00
TurboCAD LTE/LTE Pro
TurboCAD® LTE is a comprehensive 2D/2.5D CAD package that offers an AutoCAD-like UI and command line, with all of the features that you look for in AutoCAD LT, at a fraction of the price.
IMPORTANT: USB Software Backup
TurboCAD software purchased on this site is delivered as a link to a download. If you would like a copy of the installer on a USB drive, please look for the link to the 'Software Backup on USB' at the bottom of the Basket page and add to the basket from the linked page.
Buy Now:
Email to a friend
Product Description
AutoCAD-Like User Interface …
If you are an AutoCAD user, there is no need to re-learn what you already know. Instead, the TurboCAD LTE/LTE Pro interface, keystrokes and command line, are AutoCAD LT-like, allowing you to get started quickly and concentrate on your design:
Toolbars, icons, and menus function the same way as AutoCAD LT.
Dynamic input at cursor and familiar heads up display.
Command line, common keyboard aliases, and quick keys.
Tool palettes to access common and customisable tools.
But so much more …
More than an AutoCAD LT work-alike, TurboCAD LTE/LTE Pro provides many more powerful features, including:
64-bit version
GPU-accelerated drawing engine
Self-healing walls and self-aligning blocks
Support for Xrefs
Handle-based editing
Smart dimensioning tools
Enhanced layer manager
Hatch pattern editor
Transparent fills
File support for .DWG, .DXF, .SKP and more
What are the differences between LTE and LTE Pro?
To review the differences between the versions, please click on the LTE/LTE Pro Comparison tab above.
Complete 2D/2.5D CAD Functionality
TurboCAD LTE offers a complete set of 2D/2.5D(Pro) drafting and detailing tools for drawing, modifying, and dimensioning. When used with snaps and drawing aids you will be able to quickly draft and document your designs.
Highly Compatible with Other CAD Formats
TurboCAD LTE and LTE Pro support over 30 industry-standard file formats … Open & save .DWG, .DXF, and .DWF formats … Enjoy superior workflow with Trimble MarkUp and SketchUp … Import/Export files from PDF, 3D PDF, and Universal 3D (U3D) files … as well as dozens more popular CAD and graphic file formats.
What's new in v8
Productivity and Usability Enhancements
New Conceptual Selector
Manipulate and modify 3D objects like never before. The totally flexible design of Conceptual Selector allows users to customize any visual and editing parameters available in the application (eg. Move, scale, or rotate).
Improved Nudge
The TurboCAD Nudge function now offers more efficient pick up and placement of selected object(s) using the numbers pad.
Improved Block/Group Editing
While in block/group edit mode, users can now snap to objects outside the block or group.
More Flexible UI
Users can now resize dialog boxes as needed for their design environment. Adjust the screen size, resolution, and more. Works with the majority of dialog boxes including general property pages, multiline text, dimensions, program setup, and Drawing options pages.
New Contact Manager & File Sharing
Users now have the ability to create and maintain contact lists and send files to individuals or groups from within TurboCAD.
New Backup Open Documents On Program Close
A new default option called 'Automatic Backup and restore' automatically saves any modified documents that you have open. When this option is on, all open documents are backed up to the backups folder without prompting, and then the program closes. When you next start the program, the same documents are automatically reloaded so that you can continue working where you left off.
New Untitled Documents
Documents that you have created and not saved are backed up using the name "Untitled" followed by a number and the date/time. This name and number corresponds to those shown in the titlebar when you are editing new unsaved documents.
New File Buffer
A new option to save the Undo/Redo buffer of a file when it is closed or when the application closes (SEE Above) The buffer is re-loaded when the file is reopened, and can be used from the last point.
Architectural / Simple BIM Tools *Pro Only*
New IFC Import *Pro Only*
Simple Building Information Modeling (BIM) is now more advanced with the ability to import intelligent Walls, Doors, Windows, Slabs and Roofs saved in the Industry Foundation Classes (IFC) format, the industry standard for BIM information.
Improve Roof Angles *Pro Only*
TurboCAD now makes it easy to control the rise/run and/or degrees of a roof angle.
New Slab Roof Object Types *Pro Only*
TurboCAD now allows users to make a roof slab object type. With one slab, you can quickly create a flat roof, or use in conjunction with new roof angles, mitering, and edge cut tools to join several slabs together and create nearly any roof style.
New Mitering of Roof Slabs *Pro Only*
Select two or more roof slabs and have them "meet" automatically.
New Roof Edge Cut Orientation *Pro Only*
A new "Edge cut" roof property for roof slabs allows users to select different methods of roof building, either plumb or square.
Improved Roof Modifier  *Pro Only*
Now you can quickly create holes in roofs for chimney's, skylights, etc. and trim edges of roofs.
Improved Drafting and Detailing
Improved Redsdk
TurboCAD 2015 now offers an updated Redsdk 3.5.0.2 Engine, and also now includes a New Displacement Shader in the RedSDK materials.
Improved Format Painter Tool
Use the Format Painter to transfer Custom Properties and Property Set Definitions (PSD) from one object to another. This huge productivity improvement is also a crucial feature for extending BIM/IFC models.
Improved Dimension Text
Dimension Text can be set to Non-rotatable. With this property, selected, dimension text will always face the user no matter the orientation of the drawing.
Sorted Layers in Drop Down Lists
The Layers in the drop down and simple lists are now sorted as per the Design Director. If you change the control view order in Design Director the same ordering will be in all other Layer controls.
Improved Trim Tools
New ability to trim hatched or closed objects and maintain the hatch or closure.
New Dimension Units Format 'By Drawing'
Users can now globally define dimension units at the drawing level.
Improved Join Polylne Tool
The Join Polyline Tool now works on Beziers and splines without converting them to a polyline, so that their original curve status is maintained.
New Dynamic Cutaway Plane *Pro Only*
Cut away plane, for looking inside a 3D model, now works in draft mode, in mixed draft and wireframe, and in mixed draft and hidden line modes.
Interoperability Updates
Improved DWG/DXF Read/Write Filters
TurboCAD now uses the latest Teigha engine for the conversion of .dwg and .dxf files to/from different versions. Dynamic blocks are imported as simple blocks.
New SketchUp SKP 2015 Support  *Pro Only*
Import/export of SketchUp 2015 files is now supported.
LTE/LTE Pro Comparison
TurboCAD LTE Comparison Chart
PRO V8
V8
Full-featured 2D Drawing, Editing, and Modifying
Based on CAD Code with Millions of Copies Sold Worldwide
NEW, Improved in v8
NEW, Improved in v8
Backup open documents on program close
File Buffer
New Conceptual Selector
Improved Nudge
Improved Block/Group Editing
More Flexible UI
New Contact Manger & File Sharing
New IFC Import
Improved Roof Angles
New Slab Roof Object Types
New Mitering of Roof Slabs
New Roof Edge Cut Orientation
Improved Roof Modifier
Improved Format Painter Tool
Improved Dimension Text
Sorted Layers in Drop Down Lists
Improved Trim Tools
New Dimension Units Format 'By Drawing'
Improved Join Polylne Tool
New Dynamic Cutaway Plane
Improved Redsdk
Improved DWG/DXF Read/Write Filters
New SketchUp SKP 2015 Support
USABILITY
Edit Tool option "Node Filter"
Edit Tool option "Workplane by 3D object"
Geo-Located Su
64-Bit Version
Supports RedSdk Accelerated Graphic Performance for GPU Cards
up to 60x faster
Familiar CAD Environment
Familiar Intelligent Curso
Easy Polyline Editing
Advanced Handle-Based Editing
Smart Dimension Tool
Object Snap Prioritization
One-Step Splitting of Objects
Input Multiple Unit Types On-The-Fly
True Units Retained Between Drawings w/ Different Unit Settings
Explode Viewports
Associative Viewport Dimensions
Purge Tool
PDF Underlay
Print Queue
Print Window
Copy in Place Tool
Page Layout Wizard
Coordinate Data
Super Selector Modes
Stellated Polygon Tool
ARCHITECTURAL
IFC Export
PPM Objects as Doors and Windows
Self-Healing Walls (ACA/ADT Compatible)
Self-Trimming Blocks
Self-Aligning Blocks
Intelligent (Parametric), Attribute-Rich Architectural Objects
Component Walls
Bottom wall modifier
Doors
Windows
Muntins for doors and windows
Roofs
Slabs
Stairs
Rails
Profiles for Doors/Windows for custom shapes
Architectural Sections/Elevations (3D-to-2D Documentation)
Architectural Markers (Self Incrementing)
Schedule Tool and Wizard
Style Manager
Geo-Location
MECHANICAL
ACIS 3D Solid Modeling Engine
ACIS Faceting Algorithm
Faceter Properties
Drafting object break
2D Geometric and Dimensional Constraints
Surface Roughness Tool
Weld Symbol Tool
Adhesive Symbol Tool
Gear Contour Tool
DRAFTING & DETAILING / GENERAL PURPOSE CAPABILITIES
Custom Text for Dimensioning
Move Dimension Text
Area Units
Rotate View with Viewport
Delta Distance and Delta Move Angle(s)
Auto-Shape
Arrow Tool
(Line Only)
Dimensional Updating for Drafting Objects
Xrefs
Xclip support
Transparent and Bitmap Fills 2011 only
Detail Section
Hide Objects Regardless of Layer 2011 only
Enhanced Layer Manager
Draw Order by Layer
Draw by Layer Plus
Bezier Curves
Variables Palette
Enhanced Format Painter
Drawing Compare
Hatch Pattern Creator
Brush Style Editor
Variable Driven Parametric Constraints
Embed Image Files in Drawings
Package Related Dependencies for Encapsulation (eTransmit)
Ray Tool
Drafting & Detailing Palette
Parametric Part Manager
Dynamic Blocks
Sync block attributes
Image Manager (preload, organize and manage raster images)
Trace Image-to-Vector Tool
3D Perspective and Ortho Views
Database Tools
Protractor
Power Stretch Tool
Convert to Arcs Polyline
Entitiy Marks
Associative Arrays / Pattern Tools
COMPATABILITY
Open and Save As .DWG (AutoCAD®)
R14 to 2015
R14 to 2015
Open .SKP (SketchUp™ )
Open and Edit .DWF
3D PDF and U3D filters
Open and/or Save As .IGES, .3DM (Rhino®), .3DS (3ds Max®), .SAT,
.STEP, .OBJ, & .DAE (Collada)
Open and/or Save STL for 3D Printing
File Conversion Tool for Batch File Conversion
DGN Microstation filter (Open and save DGN files through v7)
Import and Open File Formats
32
9
Export, Save As, and Publish File Formats
32
12
CUSTOMIZATION
Fully Customizable User Interface & Preferences
Double Click Customization
Ruby Scripting
Software Development Kit
System Requirements
Minimum System Requirements for TurboCAD LTE/LTE Pro
TurboCAD LTE and TurboCAD LTE Pro are delivered in a 64-bit version to take full advantage of your hardware's available computer memory to load, process, and render CAD files. A 32-bit version is also available if required by your hardware.
64-bit System Requirements:
Microsoft Windows ® 10 64-bit, Windows 8* 64-bit, Windows 7 (64-bit), Vista (64-bit) – 2 GB RAM.
32-bit System Requirements:
Microsoft Windows ® 10, Windows 8*, Windows 7, Windows Vista**, Windows XP** – 1GB RAM.
*TurboCAD is designed for desktops or laptops that meet the indicated system requirements. Windows RT technology for use on tablets is not supported.
** 32-bit version of TurboCAD LTE and TurboCAD LTE Pro will run on XP and Vista platforms; however, these platforms are no longer being officially supported.
Recommended
Your experience with TurboCAD will be greatly enhanced with a newer generation, higher speed CPU, 4+ GB RAM, and larger display resolution and graphics support.
The optional GPU-accelerated Redsdk render mode requires a supported graphic processing unit (either a chip on the board, or on a video card). The latest video drivers are typically required. Newer boards with more power and VRAM generally provide greater performance.
RedSDK list of supported Video Cards and Drivers:
http://www.redway3d.com/pages/GPUList.php
---
More Information
For more information please call me on 01730 894161, or email [email protected].
01730 894161
Need some CAD advice? Want to place an order over the phone? Call me now and I'll do my best to help.
FREE Support with Every Product Purchase

Buy from this site and I'll provide unlimited telephone and email support!
Educational Licenses
If you're a student or a tutor, I can provide educational licenses at a much reduced price. Please contact me for details.
Upcoming Events
There are no upcoming events.
Newsletter Subscribe
I occasionally send out Newsletters and CAD Product Update Bulletins. If you'd like to receive them, please enter your email address in the boxes below.
Please be assured that I will never give your information to anyone else and you may unsubscribe whenever you wish.