Product Description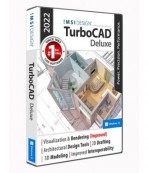 TurboCAD Deluxe 2021 & 2022
£198.00
TurboCAD Designer 2022
Essential 2D CAD Software
TurboCAD® 2021 Designer is the essential 2D Drafting solution for new users of CAD. It's easy-to-use precision 2D CAD software at an entry-level price. Use the setup wizard, tutorials, and context-sensitive help to immediately get productive. Quickly draw, modify, dimension and annotate floorplans, technical illustrations, and any other 2D design you can think of.
TurboCAD software purchased on this site is delivered as a link to a download.
Buy Now:
Email to a friend
Product Description
ESSENTIAL 2D CAD SOFTWARE
TurboCAD 2020 Designer is the best precision design solution on the market for new CAD users. It's easy to learn and use with quick access to hundreds of 2D drawing, modifying, and dimensioning tools that are perfect for designing floor plans, technical illustrations, flow charts and more. It includes a customisable Ribbon Interface with 4K monitor support to optimise productivity and readability on higher resolution displays.
TURBOCAD 2021 DESIGNER CAN HELP YOU DESIGN PROJECTS SUCH AS:
Architectural drawings
Remodeling plans
Floor Plans
Interior Design Layouts
Landscape Design Plans
Electrical Diagrams
Mechanical Designs
DIY Projects
Invention Mock-Ups
Graphics and technical illustrations
2D drafting, diagraming and schematic drawing
Key Features & Benefits
A COMPLETE SET OF 2D DRAFTING AND DETAILING TOOLS
TurboCAD Designer 2021 employs a large selection of line, arc, curve, and spline tools, so that you've always got the right tool for the job. When used with TurboCAD's snaps, modification tools, and drawing aids you will be able to quickly draft and document your designs with no restrictions. Read more about 2D Design in TurboCAD
ANNOTATION TOOLS INCLUDING DIMENSIONING AND MULTIPLE TEXT DISPLAY OPTIONS
A complete set of Dimensions and Text tools allows for better communication of design intent.
PICK POINT & PATH HATCHING, BITMAP FILLS, AND TRANSPARENCY
Choose from over 70 hatch patterns (including colors), unlimited bit-mapped fills and 100 levels of transparency to better visually identify various components of your drawing.
COMPREHENSIVE LAYER MANAGEMENT
Gives more options to control the appearance, editing, and printing of the drawing entities. Set visibility, line style, color and more to create professional drawings.
PUBLISH TO PDF AND IMPORT AND EXPORT POPULAR CAD AND GRAPHICS FORMATS
Save your Designs for sharing to this application standard format – includes support of both Model and Paper Spaces; insure accurate 'round-tripping' with industry-standard AutoCAD DWG.
COMPATIBILITY AND FILE SHARING
Whether you're a team of one or many, you'll have the interoperability needed to collaborate. We've ensured that TurboCAD is compatible with a wide variety of popular CAD and Graphics formats. You will be able to deliver files that can be opened and edited by users of AutoCAD® and other popular design software. Your team will be running like a well-oiled machine. TurboCAD provides compatibility with:
AutoCAD® DWG and DXF files, from R12 to 2020
VMRL Worlds Import/Export
PDF Export
What's new in this version
PERFORMANCE, USER INTERFACE & USABILITY
RIBBON LARGE/SMALL ICONS, AVAILABLE SPACE ICON SIZING
A new local menu option has been added when right-clicking on a Ribbon icon Users can now change the icon size/icon text to "Large Image and Text", which allows for display of a larger image of the tool icon with associated text.
CHANGING THE STYLES OF RIBBON ICONS WITH A LACK OF FREE SPACE
When using the Ribbon Interface, as you change either the UI Scale or Icon size through the Options/Toolbars and Menus /Options menu, the Size and Style (with or without text) of the icon will dynamically change .
REPEAT LAST COMMAND
The new Repeat command allows user to repeat the previous command with a single click.
TEXT DRAGGER: ABILITY TO USE DEGREE, PLUS/MINUS, DIAMETER SIGNS WHILE ENTERING TEXT
TurboCAD now supports Special Signs when inserting text into your drawing. The local menu includes Degree, Plus/Minus, and Diameter signs to use.
PERFORMANCE ENHANCEMENTS
You will get a productivity speed boost with new drawing improvements:
SELECTOR TOOL (DRAG SELECTION)
When in GDI draw mode, transformation operations such as Move, Rotate and Scale have been greatly sped up.
GDI REDRAW WITH SMALL OBJECTS
For drawings containing many small objects, redraw speed has been accelerated
2D DRAFTING AND EDITING
BLOCK AND GROUP EDITING MODE INDICATOR BAR
When editing a Block or Group, a (new) small toolbar appears in the upper-left corner of the drawing area. The toolbar displays the Block or Group name and includes a 'Finish' icon to return the user to the main Model Space.
QUICK DIMENSION IMPROVEMENTS
A new local menu option to the Quick Dimension tool now allows the user to dimension a Group of Graphics, such that the maximum X and Y-axis sizes of the Group are displayed.
AUTO-NUMBERING FEATURE
The Auto-numbering tool allows you to select multiple text entities and have them auto-numbered. Numbers are placed either at the end of each text block or can replace the text block.
AUTOCAD®
TurboCAD now supports Import/Export of the AutoCAD® 2020 DWG and DXF file formats.
System Requirements
TurboCAD Designer is delivered in a 64-bit version to take full advantage of your hardware's available computer memory to load, process, and render CAD files. A 32-bit version is also available if required by your hardware.
CPU TYPE
1 gigahertz (GHz) or faster 32-bit (x86) or 64-bit (x64) processor
64-BIT SYSTEM REQUIREMENTS:
Microsoft Windows 10, Windows 8* 64-bit, Windows 7 (64-bit) – 8 GB RAM.
32-BIT SYSTEM REQUIREMENTS:
Microsoft Windows 10, Windows 8, Windows 7 – 4GB RAM.
TurboCAD® is designed for desktops or laptops that meet the indicated system requirements. Windows RT technology used on some tablets is not supported.
IMPORTANT NOTICE TO SUBSCRIPTION CUSTOMERS – Subscriptions require an active internet connection in order to maintain the subscription license.
RECOMMENDED:
Your experience with TurboCAD Designer will be greatly enhanced with a newer generation, higher speed CPU, 8+ GB RAM.
---
More Information
For more information please call me on 07724 882403, or email [email protected].
07724 882403
Need some CAD advice? Want to place an order over the phone? Call me now and I'll do my best to help.
FREE Support with Every Product Purchase

Buy from this site and I'll provide unlimited telephone and email support!
Educational Licenses
If you're a student or a tutor, I can provide educational licenses at a much reduced price. Please contact me for details.
Need a website?

PaulTheCAD (and my other sites) was built and is maintained by Tim at Clever Digital Stuff. I've been working with Tim for over 10 years, he really knows his stuff. If you need a site or just some advice about anything digital, take a look at cleverdigitalstuff.com and give Tim a call - Tell him I sent you and you'll get a discount.
Upcoming Events
There are no upcoming events.